Want a list of great blog post ideas that are actually relevant to your niche in under 30 minutes? Here's exactly how to do it.
Trying to come up with relevant blog post ideas from scratch is always painful. Trust me, I've been there and I know what it feels like.
It's like trying to run through quicksand. Playing darts blindfolded. Conjuring a chocolate bar out of thin air.
In short: draining, demoralizing, and ultimately futile.
Then I had a bright idea. Instead of racking my brain trying to come up with winning blog post ideas, why not take inspiration from outside: what topics people are searching for, what's popular, and what other blogs in my niche are covering?
Below, I'll show you exactly how to do that in 30 minutes or less.
We'll be using the topic of "PC gaming," because I've always wanted to blog about that—but that's a story for another day.
Let's get right into it!
Step 1: Find what people are searching for (10 mins)
When writing a blog post, what do we want?
Lots of traffic, of course.
I'm going to assume that this is true for everyone, including you and I. This means that people actually need to be interested in what we're writing about.
Now to reverse engineer this: the first thing we want to find out is the type of questions that people are asking about our niche. This instantly reveals what they want to read about.
For this, where else do we look to but Google?
Autosuggest searches—you know, the ones that come up when you start typing something into Google—can be an absolute gold mine of ideas.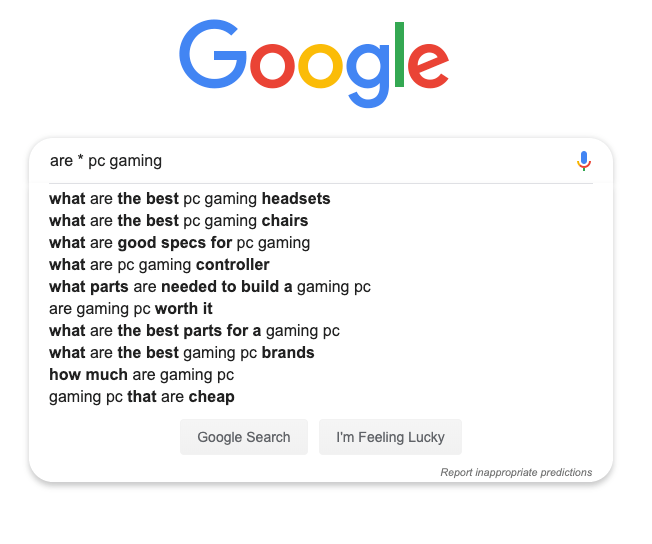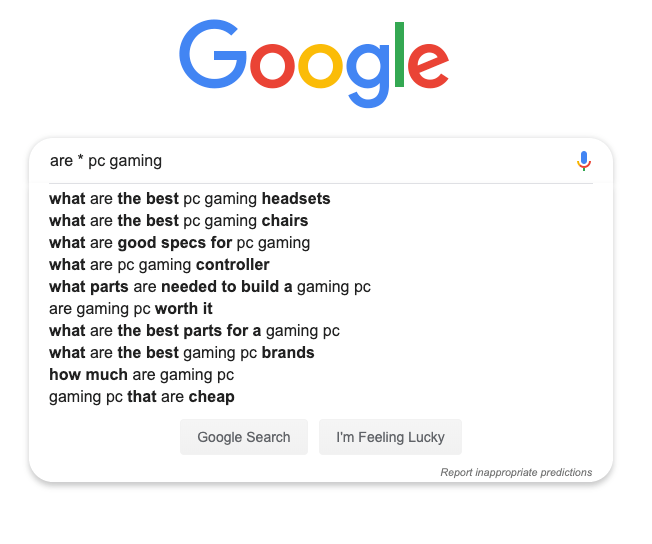 Sidenote.
Using an asterisk (*) acts as a wildcard to pull more ideas.
The only problem: we're limited to a small handful of results at a time, and there's no way to properly extract this data.
To get around this, we can use free tools like Answer The Public, which basically generates reports of the questions people are searching for in Google.
Let's key in "PC gaming" and scroll to the "Questions" report. (Of course, feel free to use a keyword relevant to your niche instead throughout these steps.)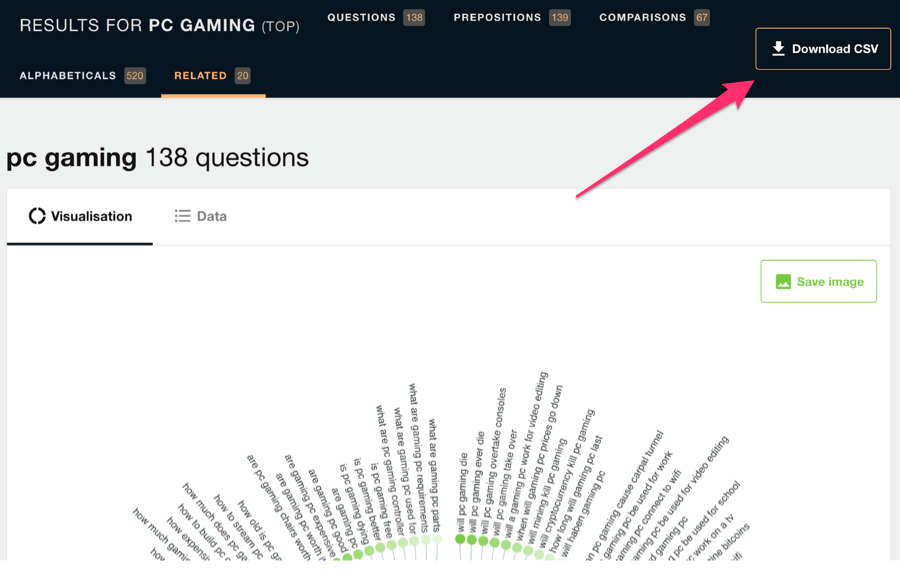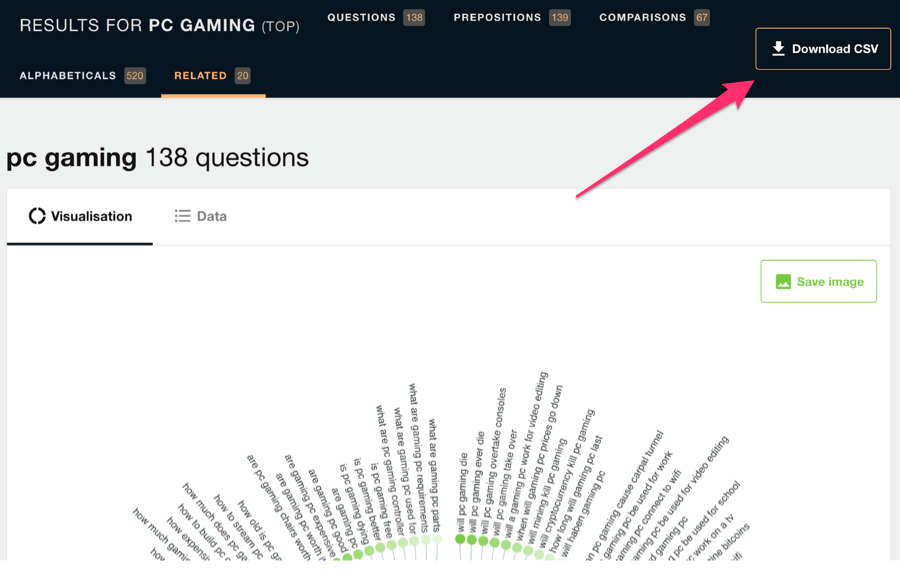 The tool instantly pulls a list of 138 questions.
Looking through the list, there are some great questions in here like:
Will

PC

gaming overtake consoles?
Which gaming

PC

is the best?
Are

PC

gaming chairs worth it?

PC

gaming for beginners
These are amazing as thought starters, but there are a couple of obvious issues.
First off, we can only pull a report for one topic at a time. This means that if I wanted to get results for multiple topics, say "steam," "best pc games" and "pc game reviews," I'd have to perform three individual searches.
Not a huge issue to some, but it's a bit of a time waster especially if you have many topics in mind.
Secondly, and more importantly, there's no context given in terms of how popular each individual question is. Are 10 people asking this every month? Are 100, or 1000? We don't know, so we have no clue if it's a good blog post idea.
So: if you'd like to stop at the step above, that's perfectly fine.
But for those of us who want an idea of how popular each question is, we can head over to Ahrefs' Keywords Explorer, enter a few topic ideas (up to 10,000), then go to the "Questions" report.
Here, we see a list of questions that people are asking about the topics we've entered—neatly sorted by search volume.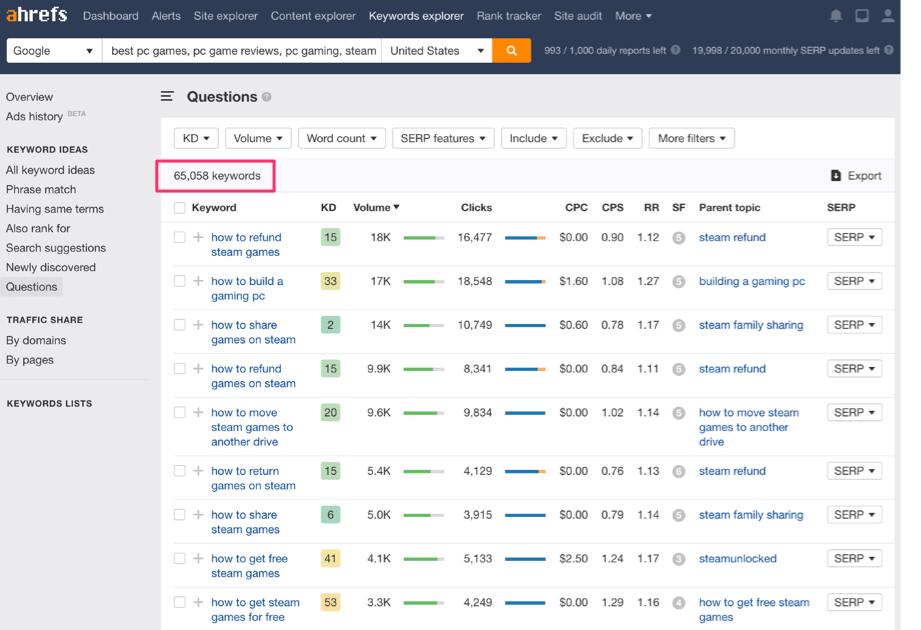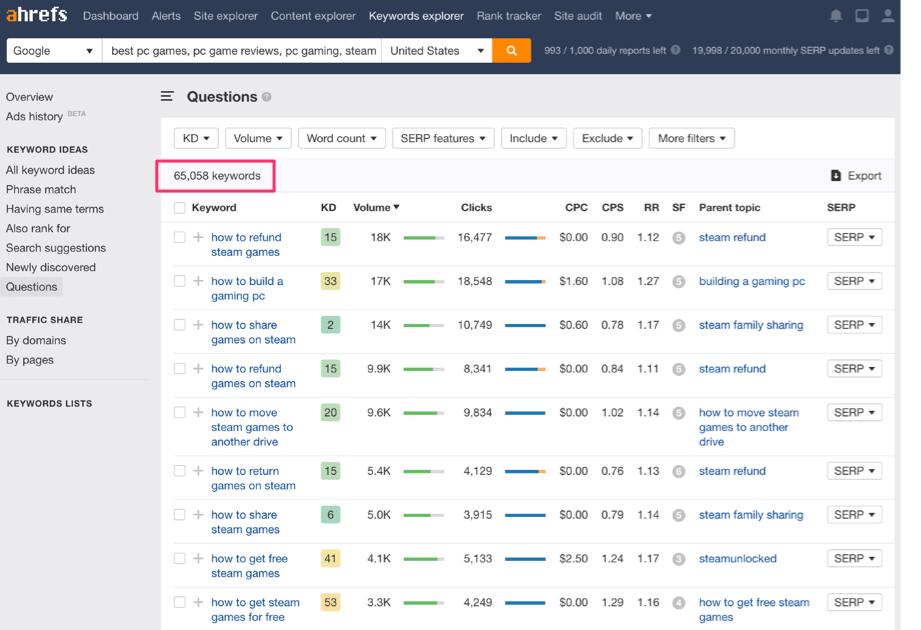 There we go! That's a whopping 65,058 results.
Which is just wonderful, but I assume neither of us has the spare time to go through 65k ideas. (Pretty sure nobody does, actually.)
So let's add a step to help us zoom in on the ideas with the best search potential. Just set the "Search Volume" filter from 500 — Max, like so: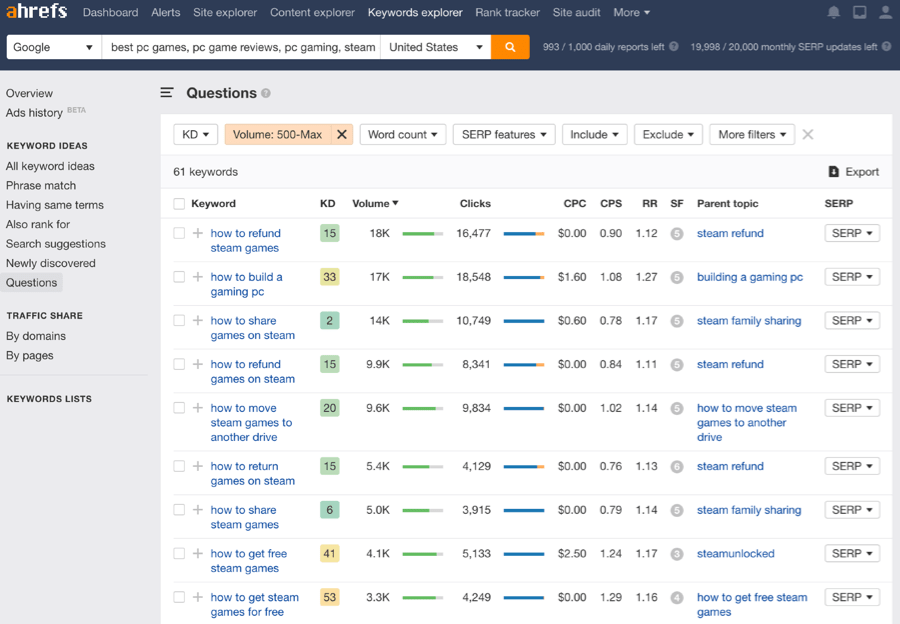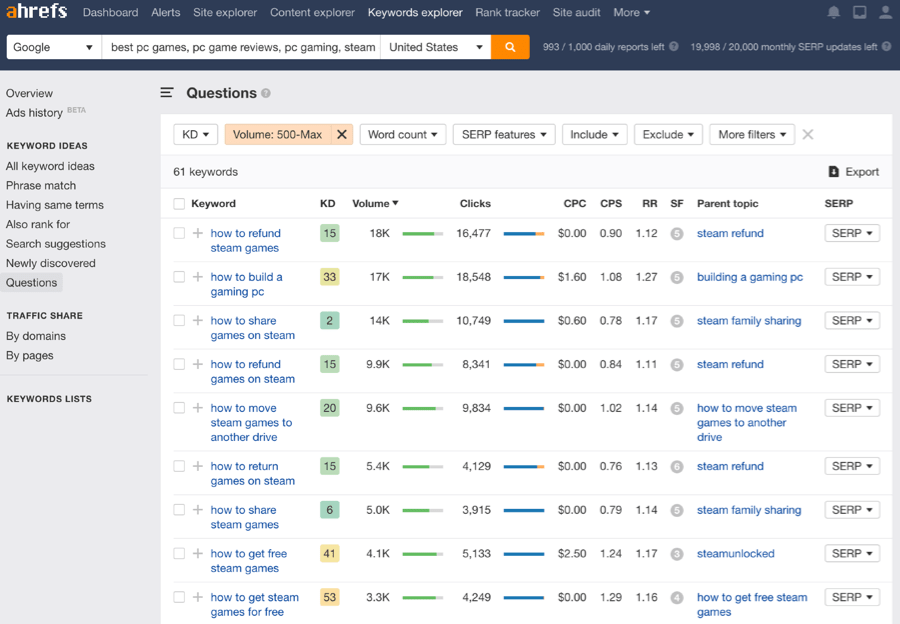 This instantly narrows down the topics to those that more than 500 people search for each month.
That leaves us with 61 ideas.
Sidenote.
"500" is an arbitrary number. Feel free to tweak this number to suit your goals and the relative popularity of your niche.
Now, skim the list and pick your favorites!
pro tip
Remember that search volume, while definitely an insightful metric in its own right, isn't the be‐all and end‐all of traffic estimation.
Don't blindly trust keyword search volume – here's why.
The only "drawback" of this approach is that since the list is dependent on the seed keywords we put in, entering generic keywords like the ones I used above tends to get us more generic results.
After spending 10 minutes scanning these results, I quickly weed out the duplicates I spot and narrow the list down to 22 ideas.
These include topics like:
How to build a gaming

PC

How to refund steam games
How much does it cost to build a gaming

PC

How to play steam games offline
(Curious? Here are the exact results I got.)
But here's the thing…as a PC gaming fan myself, an article about how to build a gaming PC is useful, sure.
But what about the juicy gossip on when the VA‐11 HALL‐A sequel is dropping? What about the posts on the latest League of Legends meta?
That's where the next step comes in.
Step 2: Find what's working for your competitors (10 mins)
This approach is great to "plug and go" since we don't have to do research and start from seed keywords, as was the case in step 1.
Why not ride on all the research and work our competitors have already done?
To do this, we'll first need to come up with a list of competitors.
Think of the blogs that are already established and commonly referenced in your niche. When it comes to PC gaming, names like Destructoid, Rock Paper Shotgun, Kotaku and Gamespot instantly come to mind.
pro tip
If you can only think of one or two blogs, you can throw them into Ahrefs' Site Explorer and go the Competing domains report to find a whole list of competitors.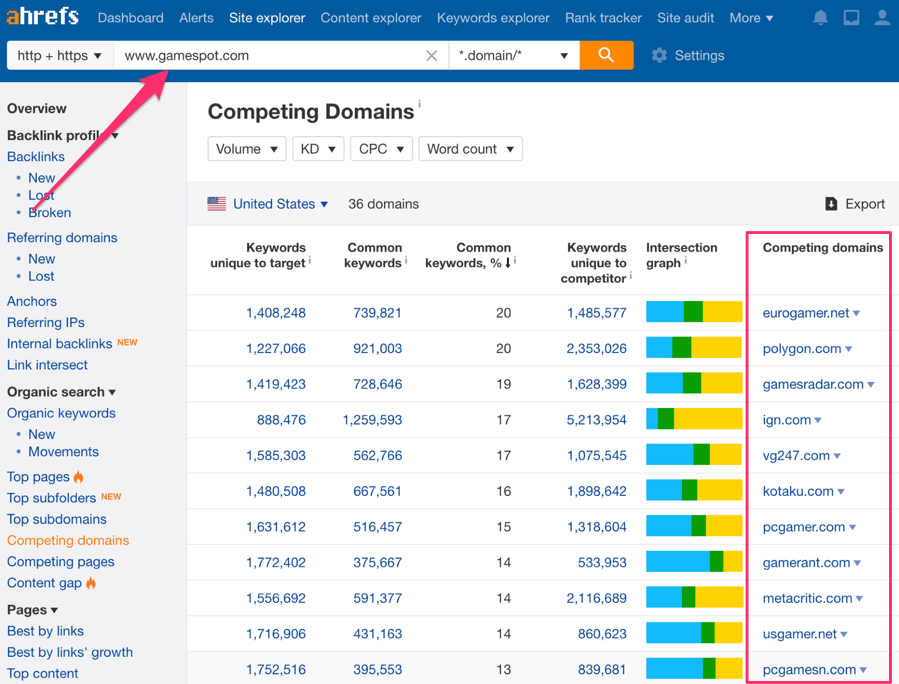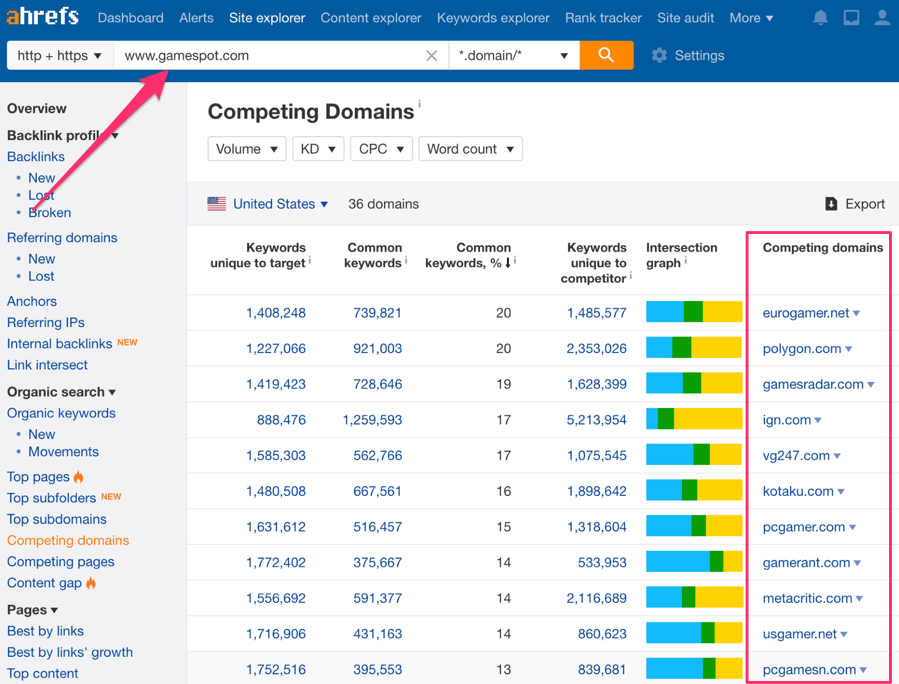 For non‐Ahrefs users, a related: search in Google does something similar.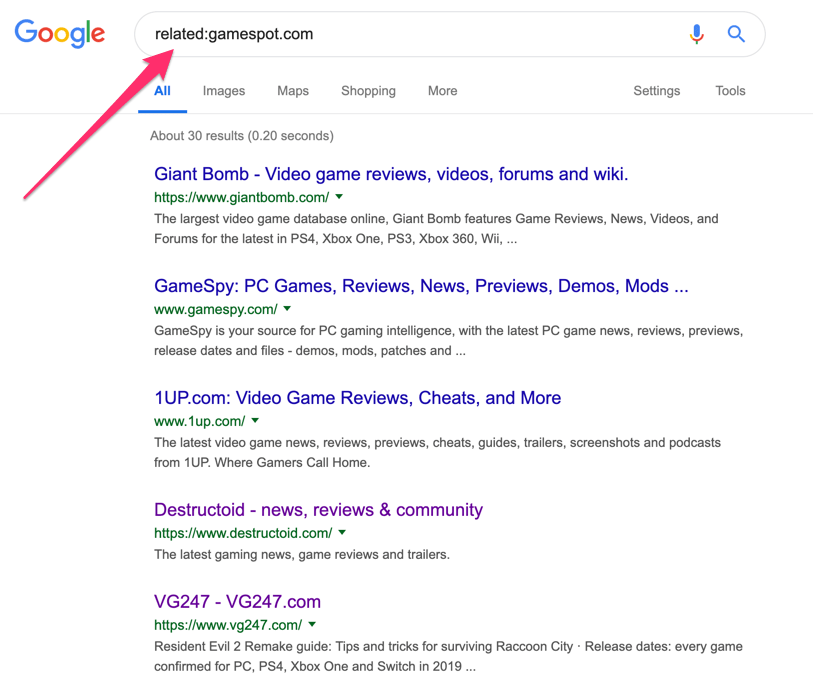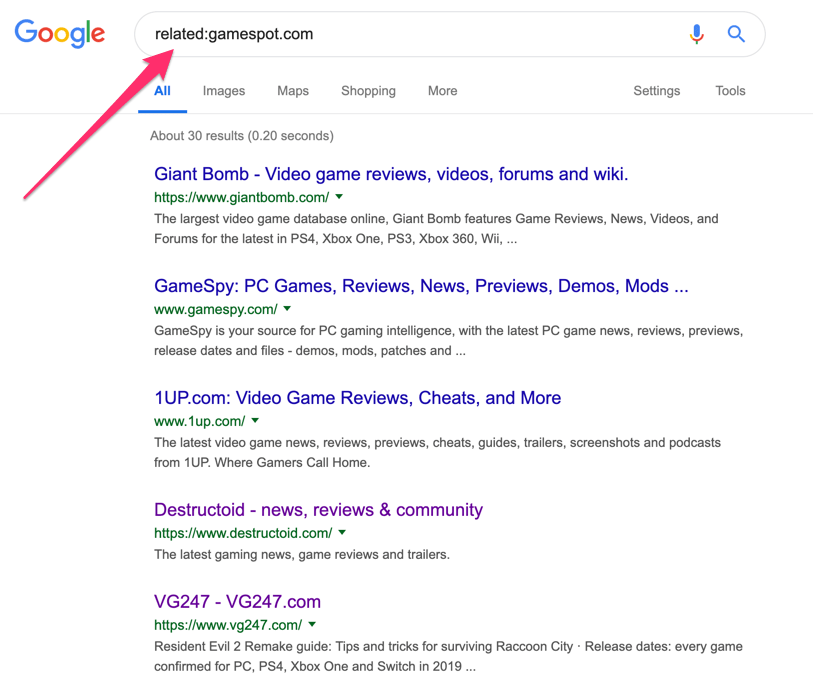 Now, we want to find out which kind of posts are driving these blogs' success.
We can do this manually: just browse each website and take note of what they're writing about. Except…this takes a ton of time, and we have no idea whether people are actually interested in any of these topics.
To get around this, head to Ahrefs' Site Explorer, enter a competitor's URL and go to the "Top Pages" report.
This gives us a list of all that competitor's webpages, neatly sorted by estimated monthly organic traffic. In other words, we can now find out which topics get lots of searches month after month!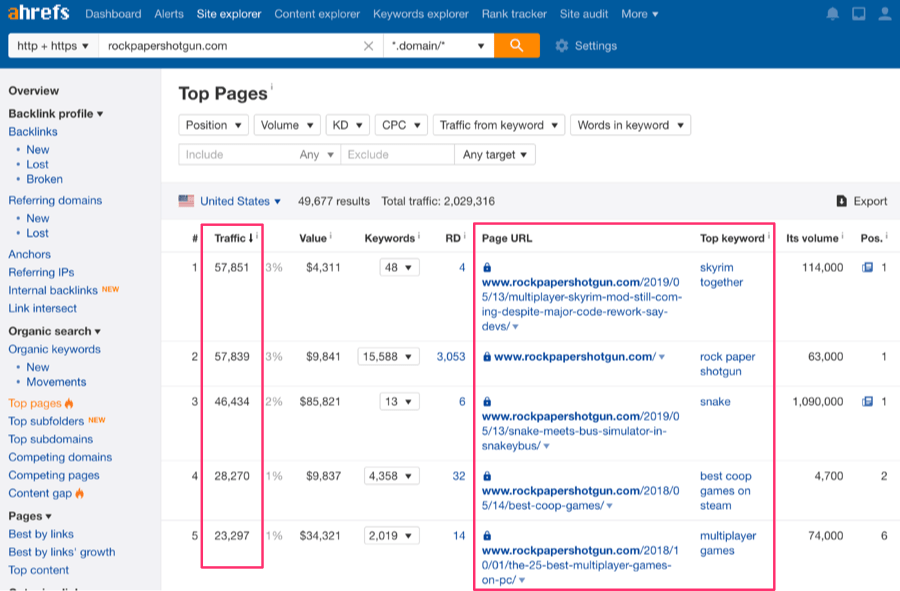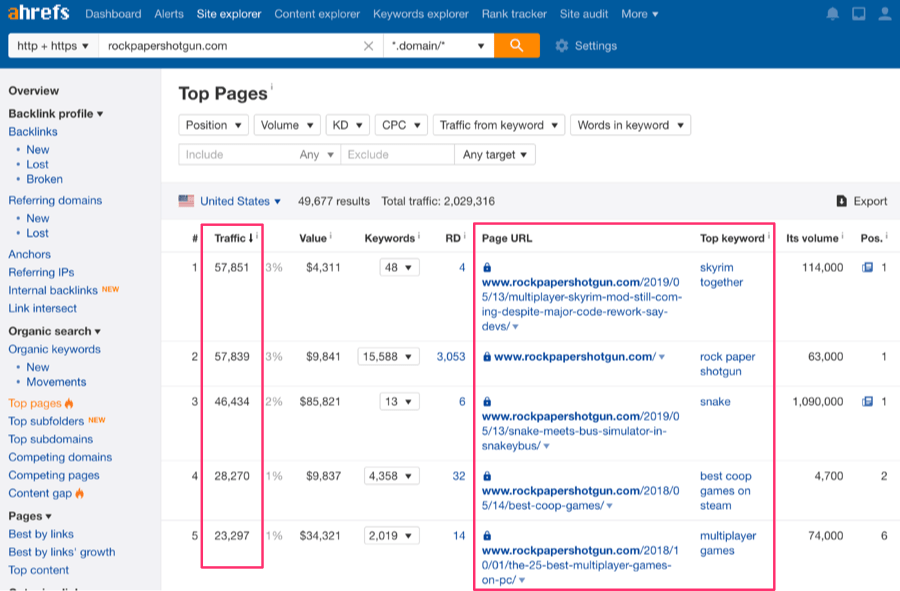 Look at the page URL and top keyword columns to get a sense for what ideas and topics really resonate with readers.
The trick here is to think beyond exact keywords. For example, the top keyword for #5 in the screenshot above is "multiplayer games." Instead of adding "multiplayer games" to our list, wouldn't noting down something like "list of the best multiplayer games" work better?
Of course, game‐specific posts on topics like "Skyrim mods" and "Call of Duty glitches" are great ideas, too.
pro tip
Thinking a little further ahead: to get lots of traffic, we'll need to rank well. While skimming for ideas, it's worth looking at the RD (Referring Domains) column in this report and paying attention to pages with low numbers.
Generally speaking, these are the ideas which will be easier to rank for.
I spend some time glancing through the list and noting down topics—10 minutes of doing this lands me with 46 new ideas.
Step 3: Find popular articles (10 mins)
Similar to the previous strategy, but not quite: another way to get a bunch of ideas at once is to take inspiration from what's already popular.
We're kind of already doing this in step 2, but the limitation is that we were only pulling topic ideas from one specific website at a time.
Since there are thousands of blogs that mention PC gaming, why not zoom out and get inspiration from the most popular of these blogs—all at once?
There's even an efficient and reliable way of doing this. At the risk of sounding like a broken record… enter Ahrefs' Content Explorer.
What Content Explorer does is give you a list of the most popular articles for any topic or keyword based on performance metrics like social shares and search traffic.
Let's get right into the action and enter "PC gaming" into Content Explorer.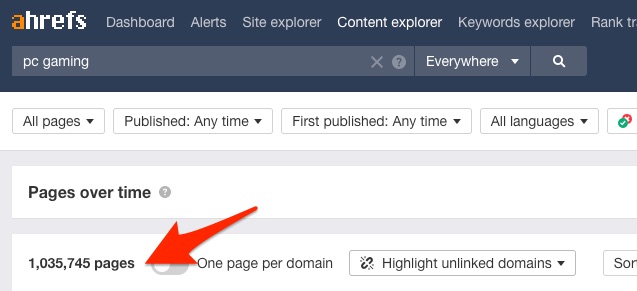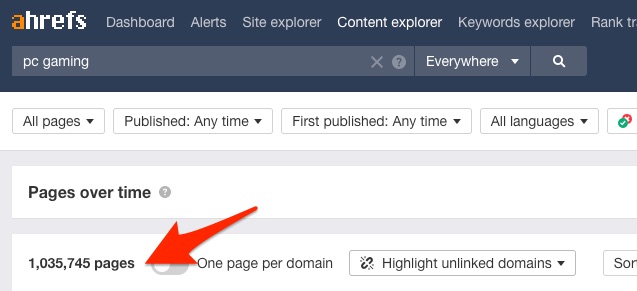 Works perfectly—almost too perfectly, in fact. The Ahrefs database is so big that we managed to pull 1,035,745 pages of results!
This is a pretty overwhelming number. Once again, let's use the filters available to narrow the ideas down to those that get a decent amount of traffic from Google (add filter > organic traffic from 500).
Let's also add a filter for Referring domains (from 0 to 5 is a good bet). What this does is limit results to uncompetitive topics backlinks‐wise, which makes them easier to rank for.
While we're at it, we can also filter for English‐only content that's currently live.


We're left with 2,250 pages, which is much easier for us to go through.
From here, make your way through the list and take inspiration from these topics. Within the first few scrolls, these ideas leap out at me instantly:
Best

DDR4

RAM

for pc gaming in 2019
Best bluetooth

USB

adapters for pc gaming
Injustice 2 tier list
Super Smash Bros. Ultimate character unlock guide
Are Surface Laptop and Surface Pro good for gaming?
After spending 10 minutes on this, I note down 35 new ideas.
This brings my total list of blog post ideas to 103–enough to keep me busy for a good few months (likely more)!
Editor's note
In Content Explorer, it's worth eyeballing the Organic traffic sparkline graph and avoiding topics with declining traffic.


After all, there's no point logical to writing posts about things that people no longer care about.
Optional step: Other ways to find blog post ideas
Not satisfied with the ideas you've gotten so far, or just want a bunch more options?
There are plenty of other ways to come up with brilliant blog post ideas. While these methods generally require more effort for less output, try them anyway—you might find a fresh angle.
Blog topic idea generators
There are plenty of these around; do a quick Google for some and test them out if you'd like.
They all pretty much do the same thing: enter a couple of keywords or descriptive phrases, and the generator will cough up some templates that serve as inspiration.
I personally enjoy BlogAbout's Blog Title Generator.
This is what it looks like:
We can also use these templates to complement the ideas we pulled earlier.
So: The Best Budgeting Advice For Building The Gaming PC Of Your Dreams.
Or: The Best Advice For Choosing A Coop PC Game You Won't Regret Buying.
You get the gist.
Comments and questions on existing blog posts, forums, and groups
Have a look at the comments on your own blog posts or a competitor's as well as trending topics on forums like Reddit or Quora, or in niche Facebook groups.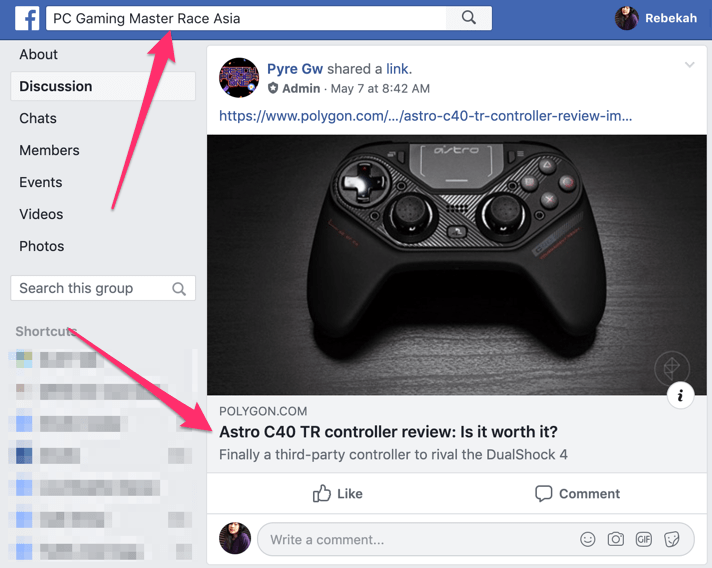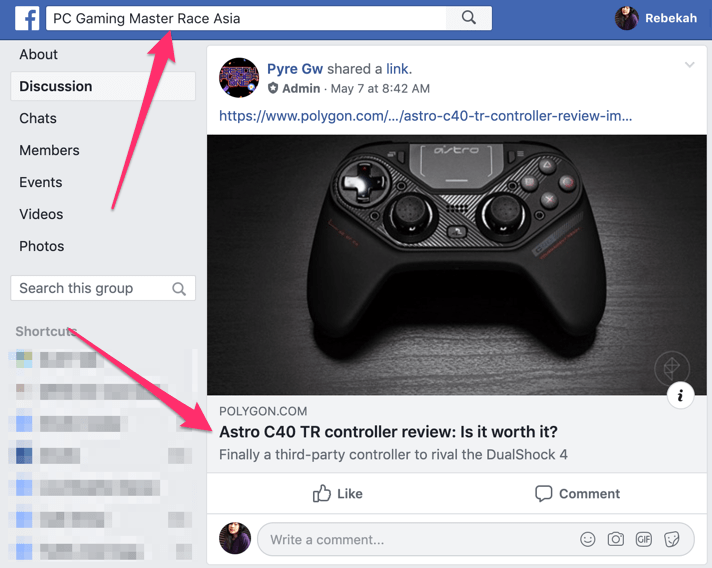 Basically, any online space where people in your niche gather to discuss topics.
Twitter and Instagram hashtags often house sub‐communities you can tap into as well.
Look for questions that people are asking and take inspiration from there: why are people asking these questions? Is there a lack of information out there, or are there many points up for debate?
How could we turn this into a great blog post?
Ask your audience
If your blog isn't brand new, you likely already have access to an existing readership.
Why not just ask them what they'd like you to write about?


You can either reach out individually for a more in‐depth discussion or send an email blast and ask your readers to write in.
Or, like Kotaku above, write a blog post about it!
You never know, some of their suggestions might spark off a great idea.
Over to you
And we're done!
Working through steps 1 to 3 got me 22 + 46 + 35 = a total of 103 blog post ideas.
Not bad at all for 30 minutes of work—I now have a huge list of topics that'll keep me busy for months or even years.
So…what's next?
The real magic happens now, when we start narrowing down this list of ideas and crafting the actual blog posts themselves.
If you're curious on next steps, here's my take on how to write a blog post, where I go into how to filter your huge list of ideas based on ranking potential—and then on how to write the post itself.
All done here? That's perfectly fine too. Hopefully, you got some amazing ideas and inspiration from following the steps in this post.
Let me know how it goes in the comments!