It's no secret that the web is growing by millions (if not billions) of pages per day.
Our Content Explorer tool discovers 1.8 Million new pages every 24 hours while being very picky about the pages that qualify for inclusion. The "main" Ahrefs web crawler crawls almost that same amount of brand new pages every minute!
But how much of this content gets any search traffic from Google?
Last year we kind of answered this question by studying ~2 million random newly-published pages. We found that only 5.7% of them ranked in the top 10 Google search results for at least one search query within a year of being published.
In other words, a whopping 94.3% of pages in our ~2 million page sample didn't get even a single visitor from Google.
But ~2 million pages is a rather insignificant sample size when you consider the depth and breadth of the entire web. So we decided to conduct another study.
We took the entire database from our Content Explorer tool (almost 1 billion pages) and studied how many pages get traffic from organic search and why.
~1 Billion Web Pages By Their (Monthly) Search Traffic
It turns out that the results align with our previous experiment.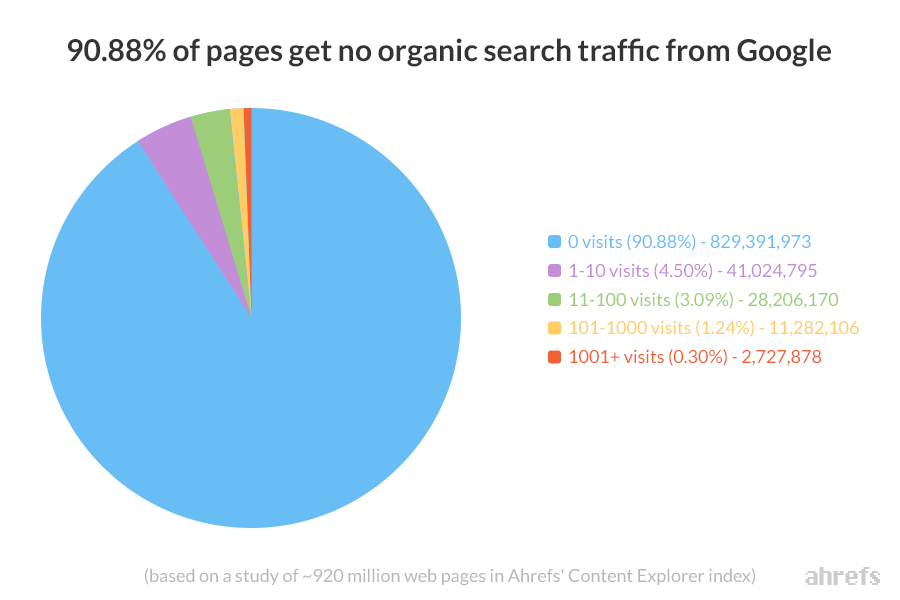 90.88% of all pages in the Content Explorer index get zero traffic from Google, and 4.5% of them get less than ten visits per month.
"90.88% of all pages don't get any traffic from Google search." — from @Ahrefs study of 1 BILLION web pages."
Click to tweet
If you're interested, here are the ten pages with the most organic search traffic from our Content Explorer database:
Sidenote.
Here's a list of the top 500 pages by search traffic (with NSFW pages removed) for your SEO research purposes. To make this data a little more actionable for the average SEO professional, we excluded pages belonging to DR91+ sites. We also removed any articles published fewer than 180 days ago — this was to filter out pages with traffic spikes due to appearing in Google's "Top stories."
Before we move on to discussing why the vast majority of pages never get any search traffic from Google (and how to avoid being one of them), it's important to address two main discrepancies with the studied data:
A billion pages may seem like a huge number, but it's not the most accurate representation of the entire web. Content Explorer discovers new pages that are shared on social networks. Pages are only added to the index if they meet our criteria for inclusion, which ensures that only "good" ones are added (while the internet is bloated with utterly "bad" pages). Even compared to the size of Site Explorer's index—216 Billion pages—our sample size for this study is quite small and somewhat biased towards the "quality side of the web."
Our search traffic estimations are not 100% accurate. We estimate search traffic based on our database of ~537 million keywords in Site Explorer. And even though it's the largest database of it's kind, it clearly doesn't represent all possible search queries that people put into Google (where ~5.5 billion searches happen every day). So there's an excellent chance that a lot of pages are getting search traffic from some super long-tail search queries that are not popular enough to make it into our database.
That said, these two "inaccuracies" don't really change anything in the grand scheme of things — the vast majority of published pages never rank in Google and never get any search traffic.
But why is this, and how can you be a part of the minority that gets organic search traffic from Google?
Well, there are hundreds of SEO issues that may keep your pages away from ranking well in Google. But if we focus the most common scenarios only, there's only two of them.
Reason 1: The page doesn't have any backlinks
I hate to rehearse the same mantra that is found in almost every other SEO article, but there's really no way around it:
Backlinks do help you rank higher in Google!
And they are one of Google's "top 3 ranking factors."
So why don't we slice that same "~1 billion pages" pie by the number of referring domains that are linking to each page?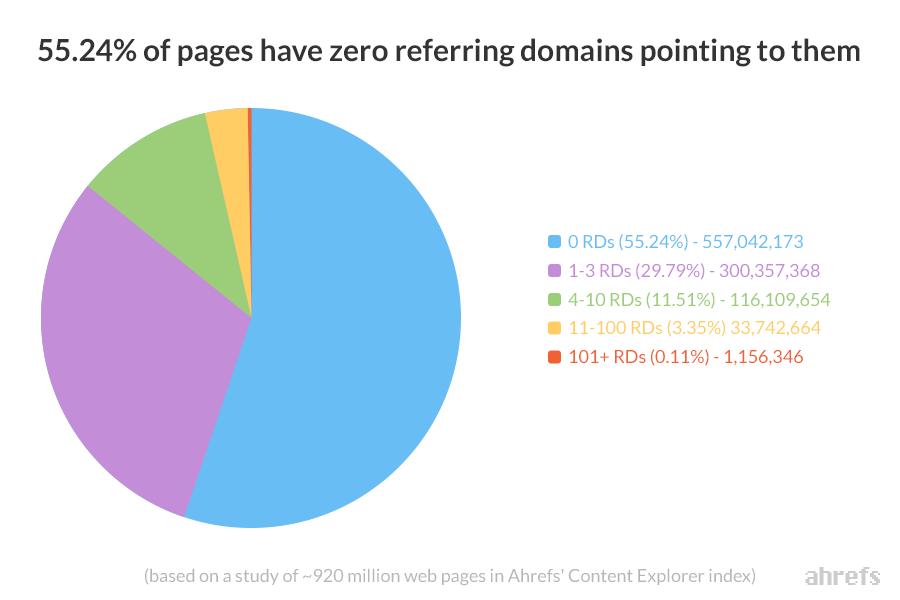 It looks like 55.24% of pages don't have even a single backlink. And 29.79% of pages have links from less than three websites.
"55.24% of pages don't have even a single backlink." — from @Ahrefs study of 1 BILLION web pages."
Click to tweet
Do you notice the trend already?
The vast majority of pages don't get any search traffic, AND the vast majority of pages don't have any backlinks.
But are these the same pages?
Let's see how the number of referring domains to a page correlates with the estimated organic search traffic to that page (across our entire database of ~1 billion pages in Content Explorer):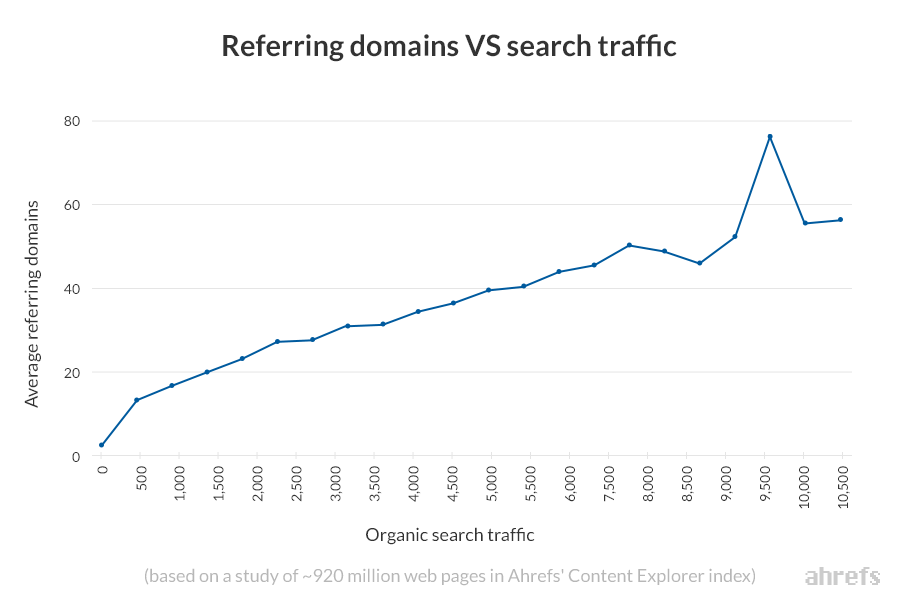 And it looks like we have a linear correlation — the more backlinks a page has, the more search traffic it gets from Google.
We can see a similar correlation between the number of referring domains and the number of keywords that a page ranks for: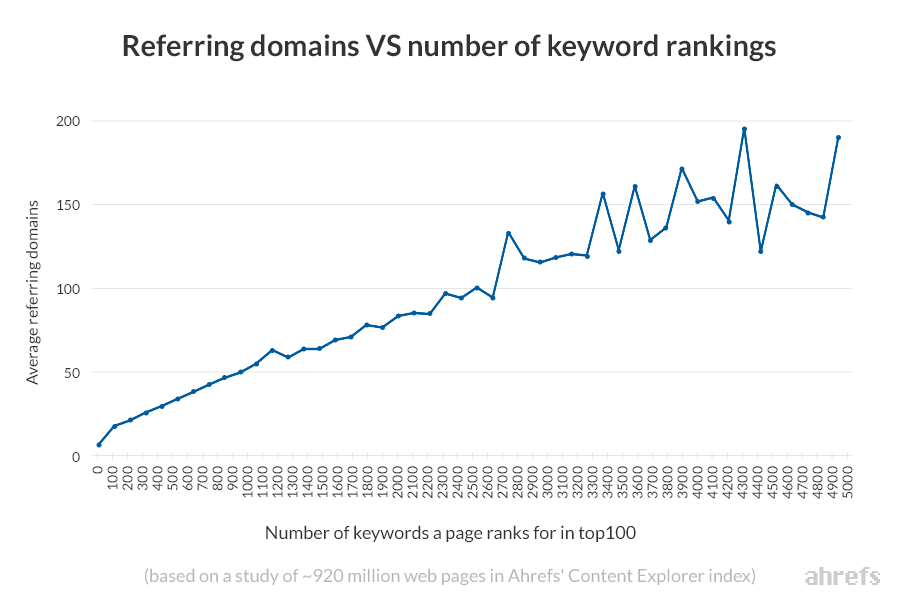 As always, it is important to note that correlation does not necessarily imply causation. These graphs don't infer causation, which means that neither of these graphs provides direct evidence that links help you rank in Google.
But pretty much any SEO professional will tell you that it's almost impossible to penetrate the top 10 search results if the current top ranking pages have a ton of backlinks. Which very much aligns with the data that you can see above.
So if you want to rank in Google and get search traffic, you'll need to build high-quality backlinks to your page. If you're unsure how to do that, start with these articles on our blog:
However, it IS possible to get search traffic to your page even if it has zero backlinks, but only if there's a lack of "powerful" pages in SERPs for your target keyword(s).
I wondered how many pages in the Content Explorer database get search traffic despite having zero incoming links. So I filtered the entire Content Explorer database for pages with zero referring domains AND a Domain Rating (DR) lower than 60.
Here's what I got: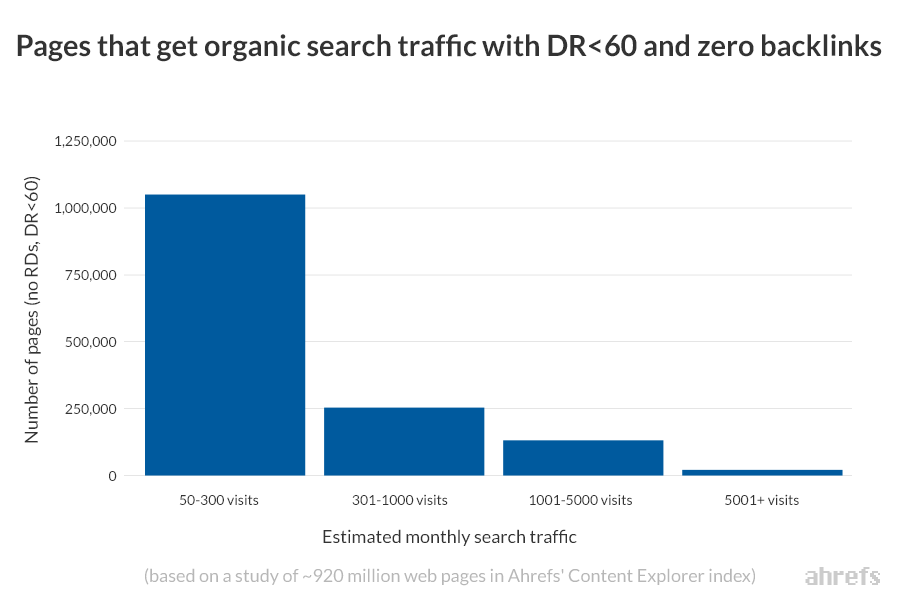 Well over a million pages get some nice traffic from Google while having zero backlinks and residing on domains with a Domain Rating (DR) lower than 60.
Now, in all honesty, these numbers are somewhat skewed by SEO spammers from "dark" industries, who hide their backlinks from Ahrefs while ranking for all kinds of stuff in Google.
But here are some examples of perfectly legit pages with zero referring domains that get a considerable amount of search traffic (just copy-paste them into Ahrefs' Batch Analysis tool):
If the possibility of getting search traffic without the need to build backlinks excites you, I suggest learning more about the concept of Keyword Difficulty and how to find keywords/topics with decent search traffic potential and low competition.
Reason 2: The page doesn't target a topic with enough search traffic potential
Sometimes pages will have tons of backlinks but still get zero traffic from Google.
I filtered for all pages in the Content Explorer database that get no traffic from organic search and divided them into four buckets based on the number of linking domains to each page.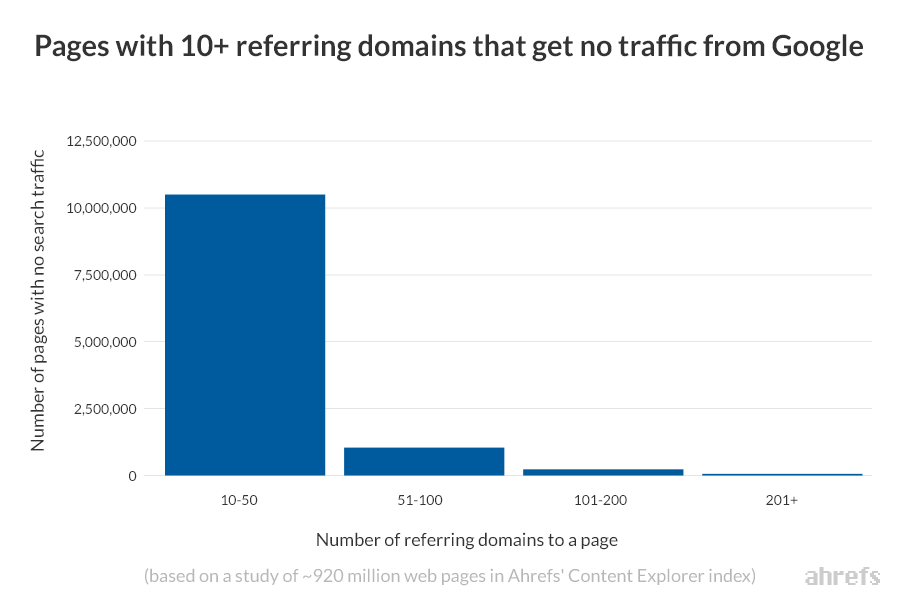 I found out that 30k+ pages have backlinks from over 200 referring domains, yet don't get any search traffic whatsoever.
Here are some examples of such pages:
Sidenote.
All of these pages had 200+ referring domains and zero organic search traffic at the time I pulled the data. However, I did notice a few of these pages have lost a fair few referring domains since then.
By reviewing these (and many other) pages manually, I noticed two general trends that explain why such pages get no traffic despite having so many backlinks:
They went overboard with "shady link building" and got penalized by Google;
They aren't targeting a topic that people are searching for in Google.
I don't want to expand on point #1, since I'm hoping readers of the Ahrefs Blog are not practicing "shady link building" and therefore will never experience this issue.
As for #2, well, this one is pretty self-explanatory really:
If nobody is searching for whatever you talk about on your page, you won't get any search traffic.
You'll notice this happening quite often with news-based articles. They easily obtain a lot of links from around the web, yet rarely get any long-term traffic from Google.
This is because people can't search for things they're unaware of, and most people don't care about things that happened long ago and thus never search for them (like this article or this article).
Editor's note
You may have noticed that some news articles get a lot of organic search traffic in the short-term by ranking in the "Top stories" block for relevant, high-volume search queries.
Here's an article from Politico ranking in the "Top stories" block for "Donald Trump."
Which Ahrefs picks up almost immediately: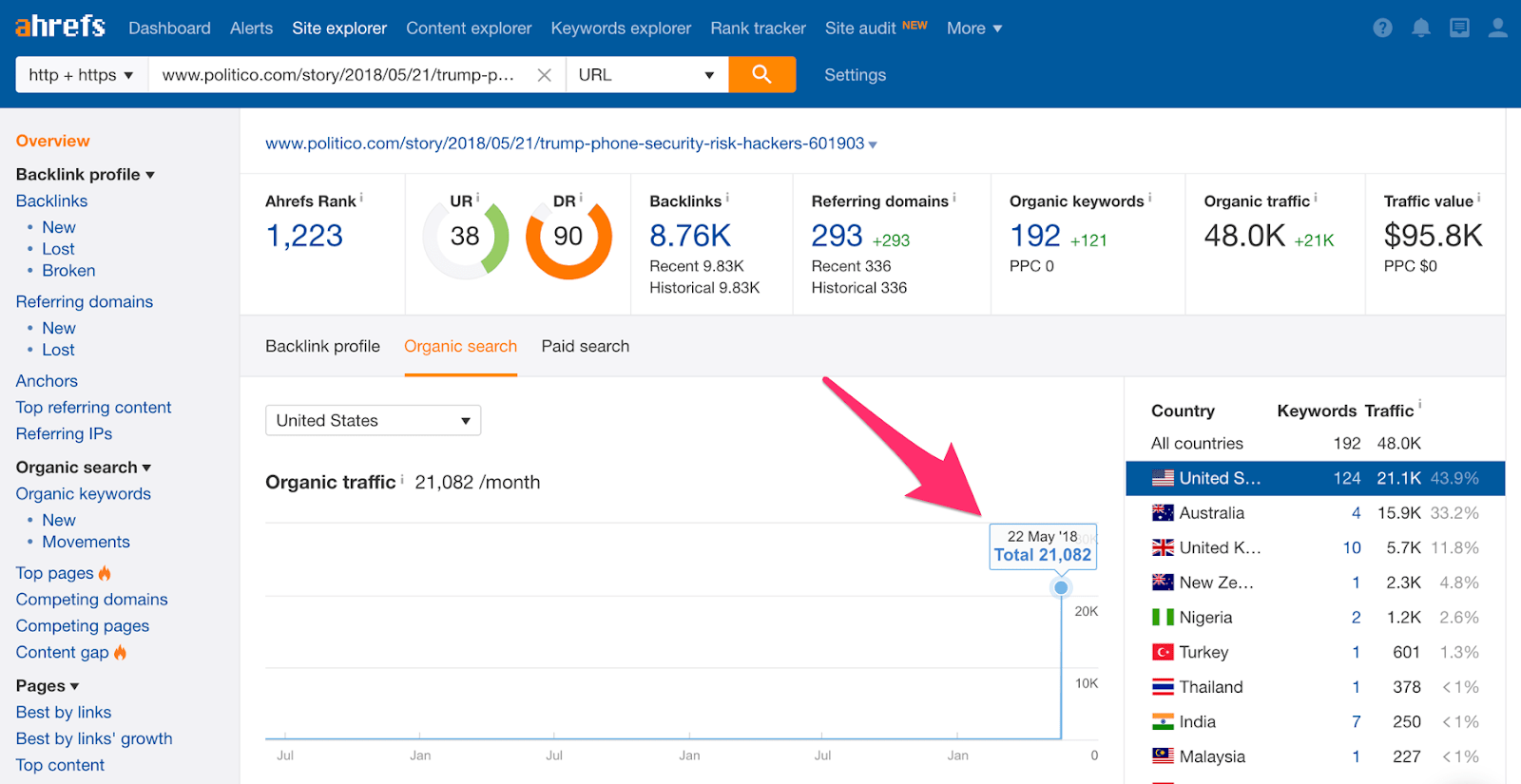 Because "Donald Trump" gets 5.6M searches per month, this page receives a lot of traffic from the "Top stories" block.
However, I predict that traffic to this page will drop to zero fairly quickly. Put the URL into Site Explorer and see for yourself.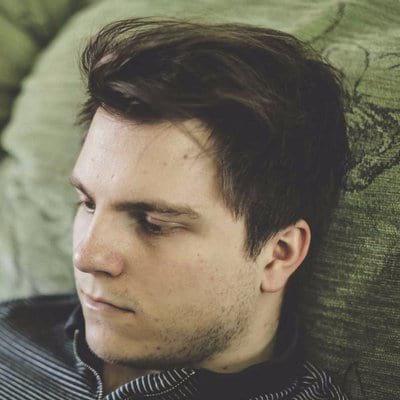 But sometimes a page with tons of backlinks may simply be targeting something too generic and thus, won't serve the searcher intent well enough.
A somewhat extreme case is this page from Engadget, which doesn't even seem to appear in Google's index despite having over 6k referring domains. What a waste, right?
As our CEO Dmitry pointed out when we discussed this case internally: "This page makes sense as a page to find content from, but not as a page to show in the search results."
So one of the quickest and most effective SEO wins ever is this:
Find the pages on your website with the most referring domains;
See if they are targeting and ranking for any good topic(s) with high search traffic potential;
I have to give credit to Bryan Harris for sharing this "quick SEO win" during an interview for our "Blogging for business" course:
https://www.youtube.com/watch?v=-JNfOlCK-TU
He suggested to use the "Best by links" report in Ahrefs' Site Explorer to find the pages on your site with the most links, then analyze their search traffic. By doing this, you can find pages with tons of links but very little organic search traffic.
quick tip
Perhaps a more convenient way would be to crawl your website using Ahrefs' Site Audit tool and then use the Traffic and Referring domains filters in "Data explorer":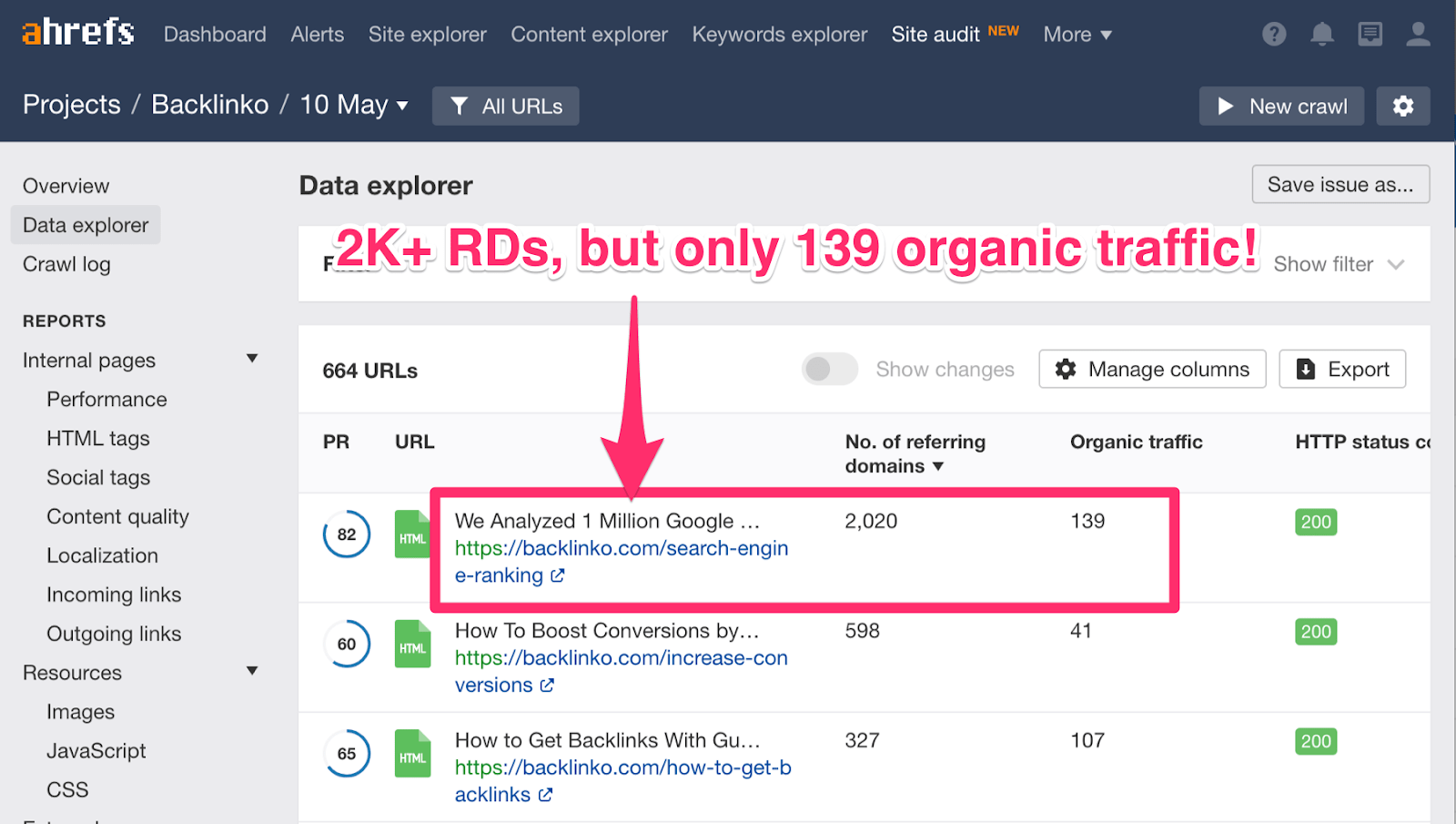 Once you find the pages with lots of backlinks but little organic traffic, Bryan's advice is to:
Analyze what they're about;
Do a bit of keyword research to see if there's scope to re-optimize those pages for relevant topics with decent search traffic potential.
However, not all pages on your website are meant to be found in Google, even if they have tons of backlinks.
Sometimes you may have a fantastic resource that will attract a ton of backlinks, but nobody in the world will be searching for it.
For example, take this very article, for which we decided not to target a specific keyword at all as we couldn't find anything relevant.
So does this mean that all effort with this article is wasted since the backlinks it attracts won't result in any search traffic to this article?
Not entirely.
As you probably noticed, this article is linking to a lot of other articles on the Ahrefs Blog, as well as to some of our tool landing pages. So should it receive any links, it will share some of that "link juice" with those other pages on ahrefs.com and help them rank better.
Recap: target things that people are searching for and get some quality backlinks to your pages
Despite all my bravado about analyzing a massive database of ~1 billion pages and extracting cool pie-charts and graphs from said data, the bottom line is painfully simple and obvious to anyone familiar with SEO:
If you want to get traffic from Google, you need to publish pages about the things that people are searching for (i.e., do proper keyword research) and make sure those pages get links from other sites (i.e., do some link building).
In the grand scheme of things, that's really all you need in order to show up in Google search results and get organic traffic to your site.